As we're getting ready to change our clothing from winter to spring, we should also be thinking about how we'll change our accessories. Purses get brighter and shoes get lighter. And hats? Well, they change a bit, too. Check out the 4 hats I'm loving that you should keep in your rotation for spring. Have a hat that you're topping things off with for spring? I'd love to see it! Comment here or send me a DM on the gram @annamariestyle. Hopefully this shopping will brighten your Monday a bit!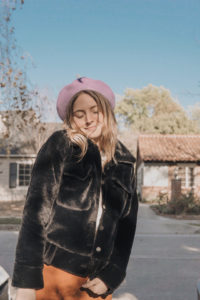 Lavender Beret
I think berets will at least live through spring. I mean, they're so darn cute! And getting one in this year's coveted color is just really a great idea.
Wide Brim Fedora
Felt or wool hats really work year round. But for spring, I'd say swap out black for something a bit less dark but just as nuetral. Yes, I'm looking at you tan.
Floppy Straw Hat
Ah, pool, beach, and swimsuit, we meet again. Keep your face protected from the sun while looking stylish with a floppy straw hat.
Straw hat
I feel like this one doesn't need any justification or explanation. Also, it's not the same as the one above ;). It's spring and you'll love adding these hats to your looks. It just makes sense.