My friend has been talking about rent the runway for years. She's devoted. Nearly every event from bachelorette parities to weddings, she's rented the runway. For some reason it took me years to get on board, and now that I've signed up for a monthly subscription, I'm obsessed.
There are a few key reasons I love Rent the Runway. First off, I'm that girl that will buy a dress for a special event and only wear it once. Not only is that money down the drain, but it's also not sustainable. I love that Rent the Runway contributes to sustainability in the fashion sphere and helps me build a less wasteful lifestyle. If you're not a big thrifted, it's a great way to help the environment while still staying up-to-date on trends and designers. I also feel like with a fashion blog, my looks need to be current and fresh to inspire others. I signed up for the monthly unlimited subscription so that I could stop buying one-and-done pieces. Lastly, I can't afford the runway. As much as I'd love to spend $400 on a dress every time I went to a wedding or buy the coolest new handbag, it's just not something I can do. Rent the Runway allows me to stay in fashion and in budget.
Since I'm so obsessed with Rent the Runway, I've decided to add a monthly story to my blog centered on the pieces I rented for the month. I'll share likes and dislikes, sizing and fit information, and whatever other realness I feel like. So here's a look at all the pieces I rented in July and my ten cents.
What I Wore…
Claire V. Fifi Woven Top Mini Bag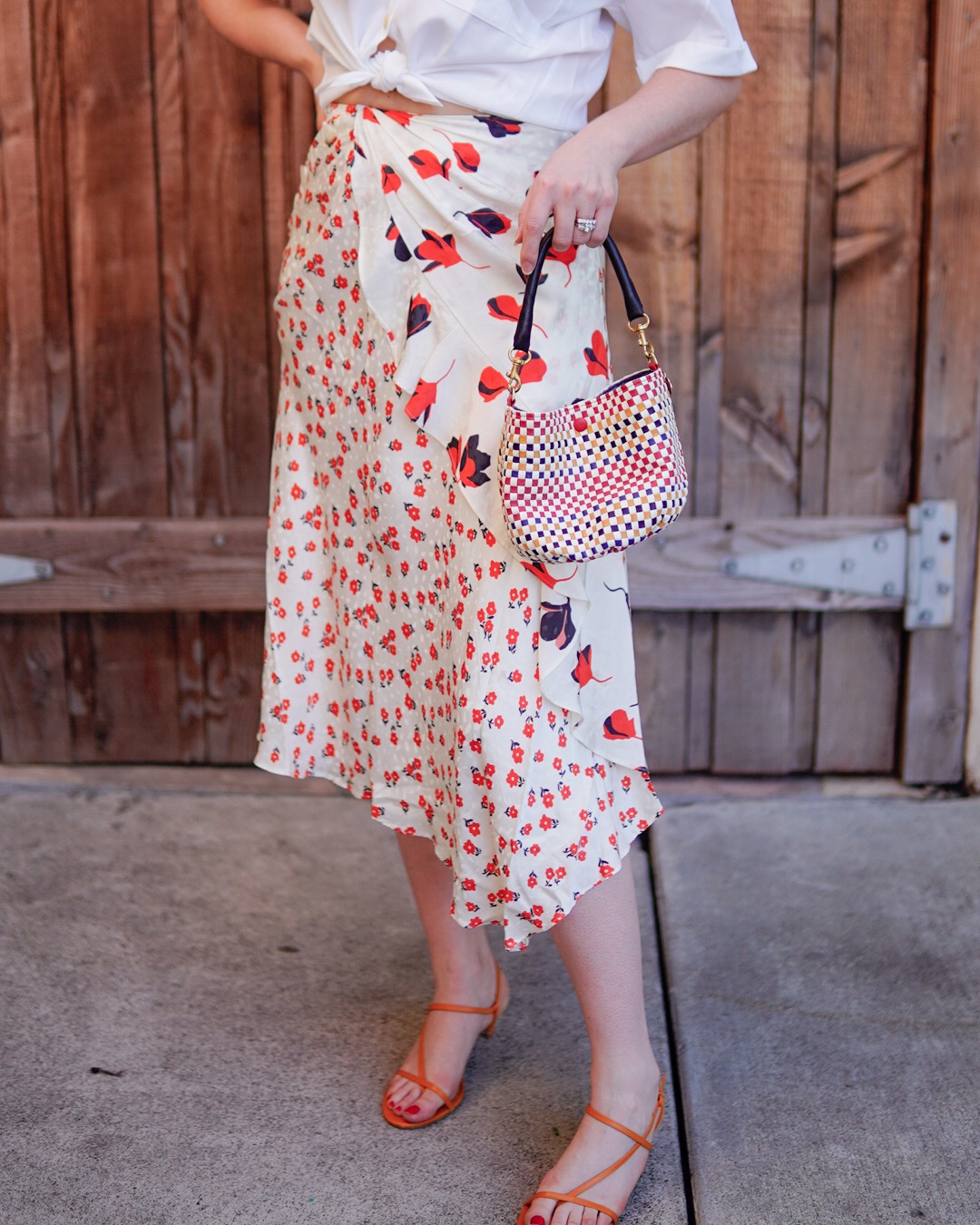 This woven bag is perfect for summer. It's bold and bright but easily fits into my wardrobe.
Self-Portrait Asymmetric Floral Printed Skirt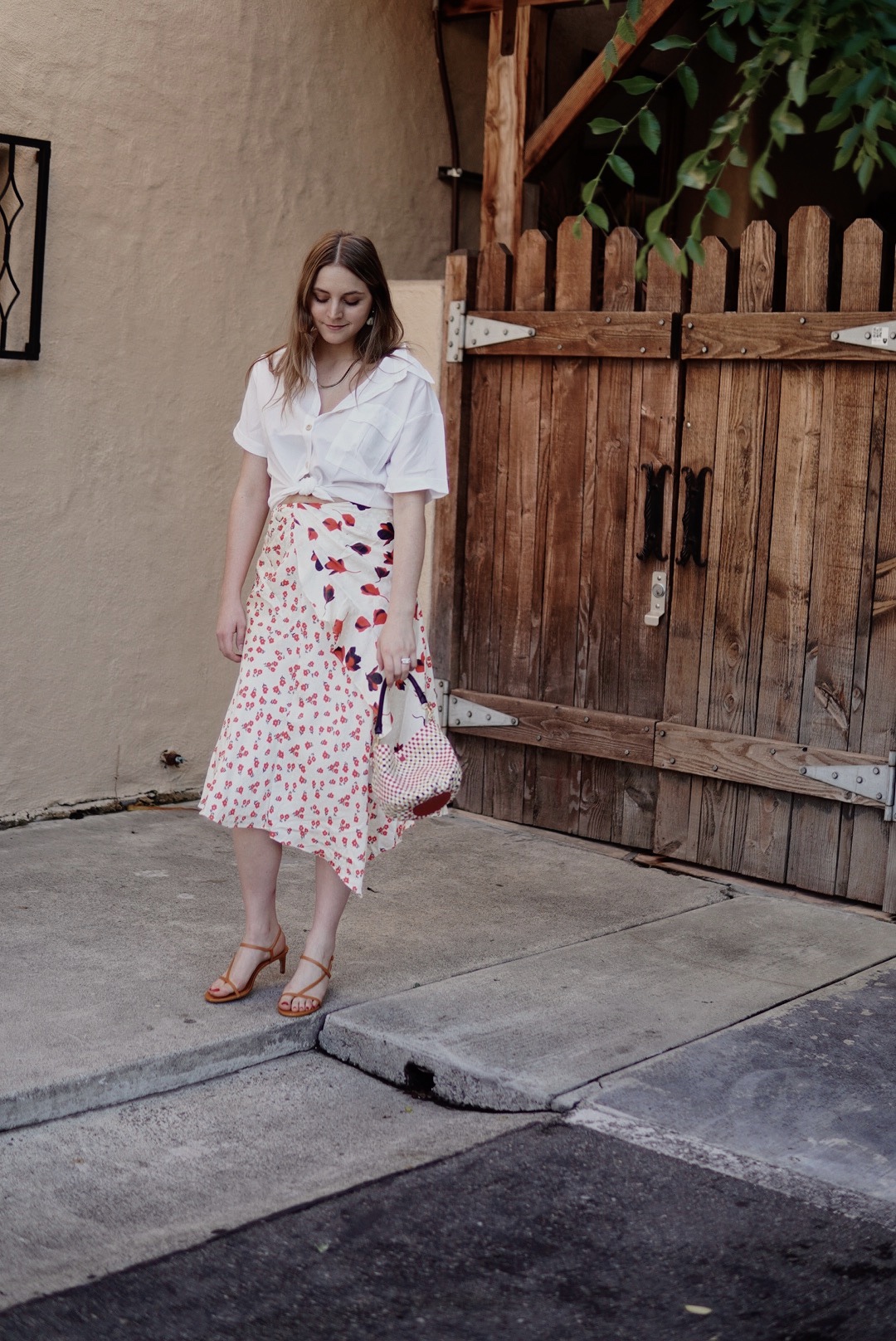 Skirts are a must right now, as dresses are not breastfeeding friendly. This skirt from Self-Portrait is beautiful. Beautifully made. Beautifully printed. Beautifully fitted. I love the asymmetrical hem and how it flows when I moved. I picked it up in a size 4 but probably would have been more comfortable in a 6 😉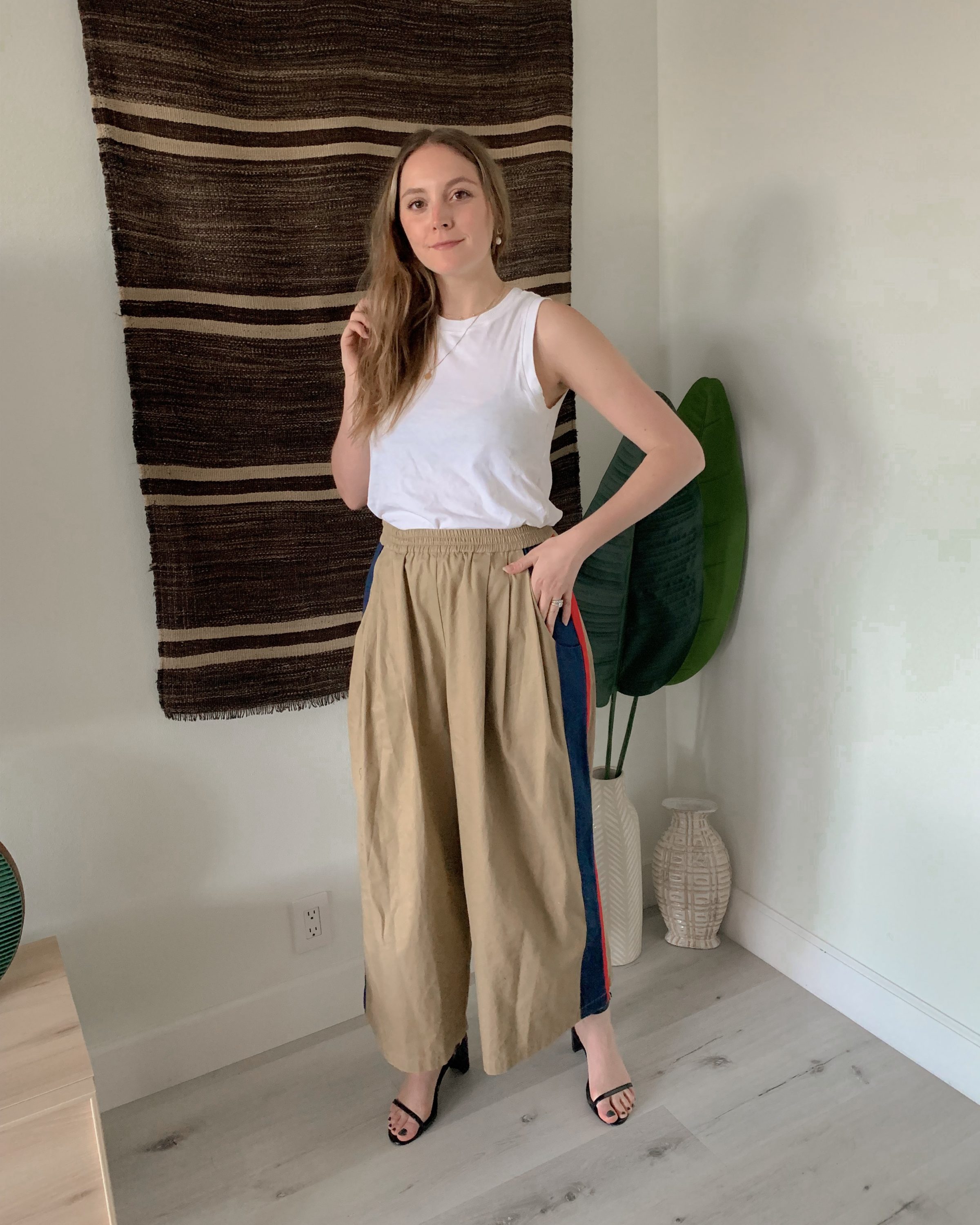 These pants were my favorite piece from the month! I'd rent them again. They have the coolest, baggy fit while still maintaining an air of chicness and sophistication. The side paneling and pleating add even more incredible details. Great for a night out or paired with sneakers for a casual summer look. Wearing a size small which was perfect.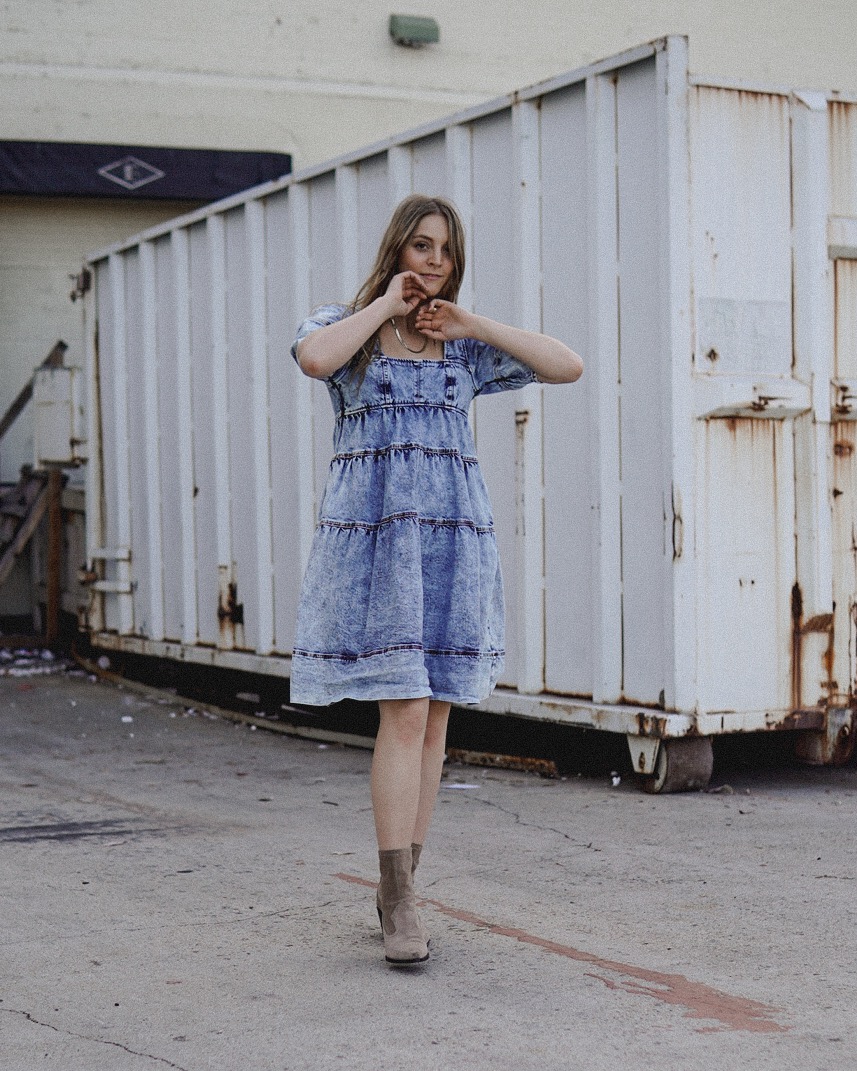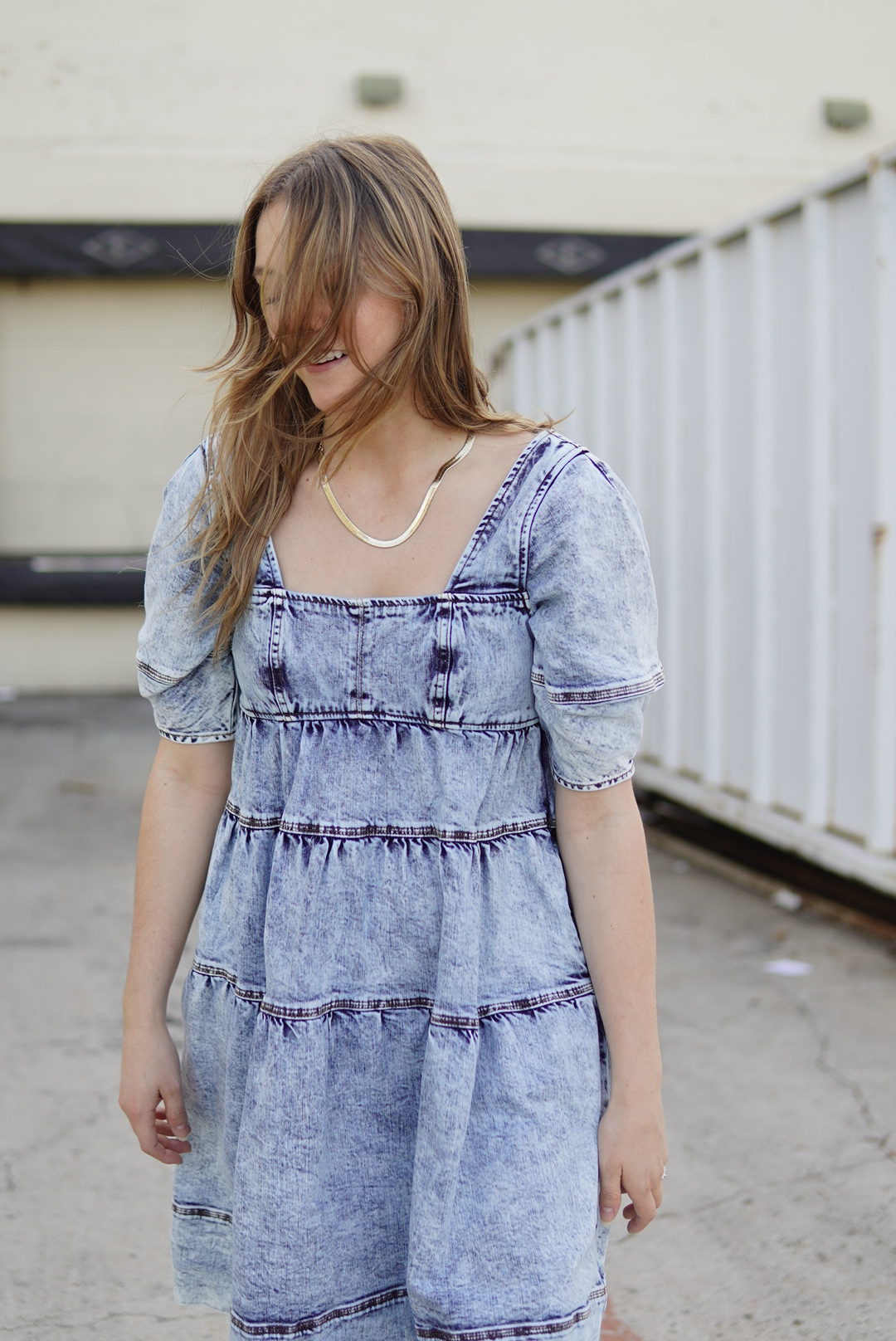 This dress is dreams. The shape. The stitching. The perfectly washed denim. I fell in love as soon as I put it on. It felt like a western, 80's dream if such a thing exists. I ordered it in a 2 but would definitely get a 4 if I rented it again, as I couldn't actually zip it all the way up.
3.1 Phillip Lim Wool Patchwork A-line Skirt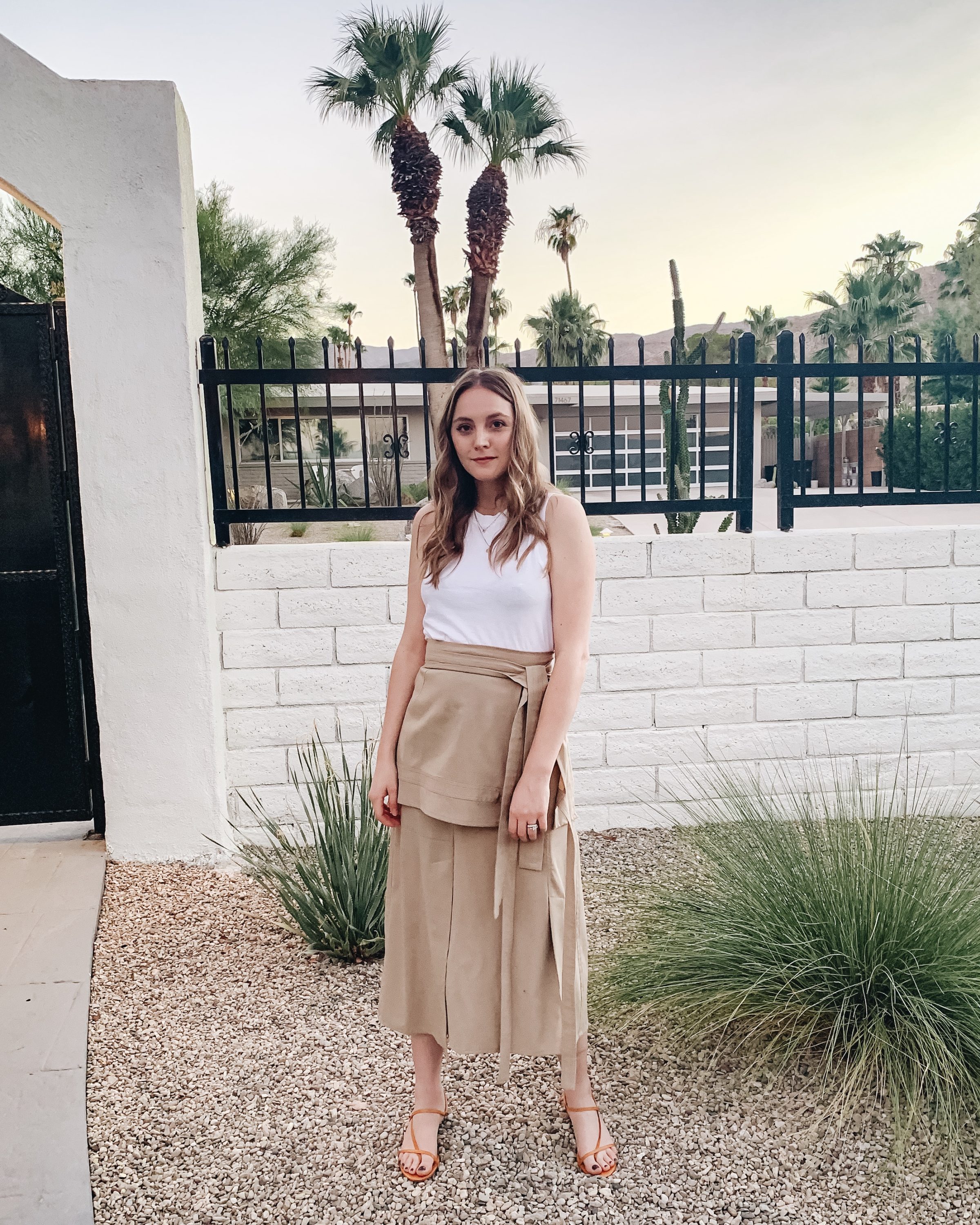 I obviously had a thing for camel pieces this month. This midi skirt is minimal, but the tie details add flair to make it an eye-catching piece. I can definitely see myself renting it again and wearing it in a totally different way. Maybe in the fall with a bright sweater and boots. I wore size 6.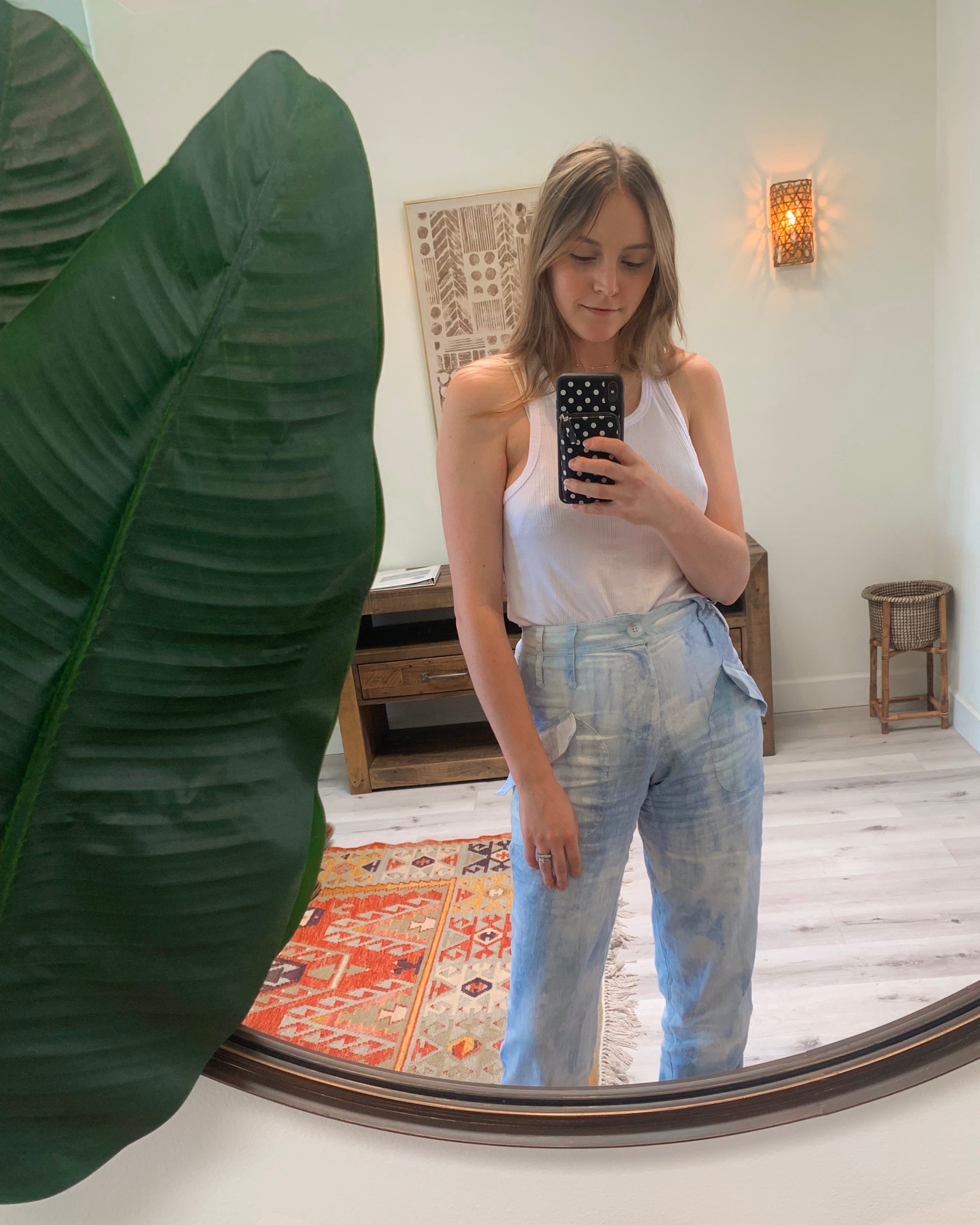 I'm here for the tie dye trend, and these pants are just that. They're comfy and casual and right in style. I loved the rope detailing at the hem of the leg to give them a more tapered fit.
What I Rented…
The East Order Scout Mini Skirt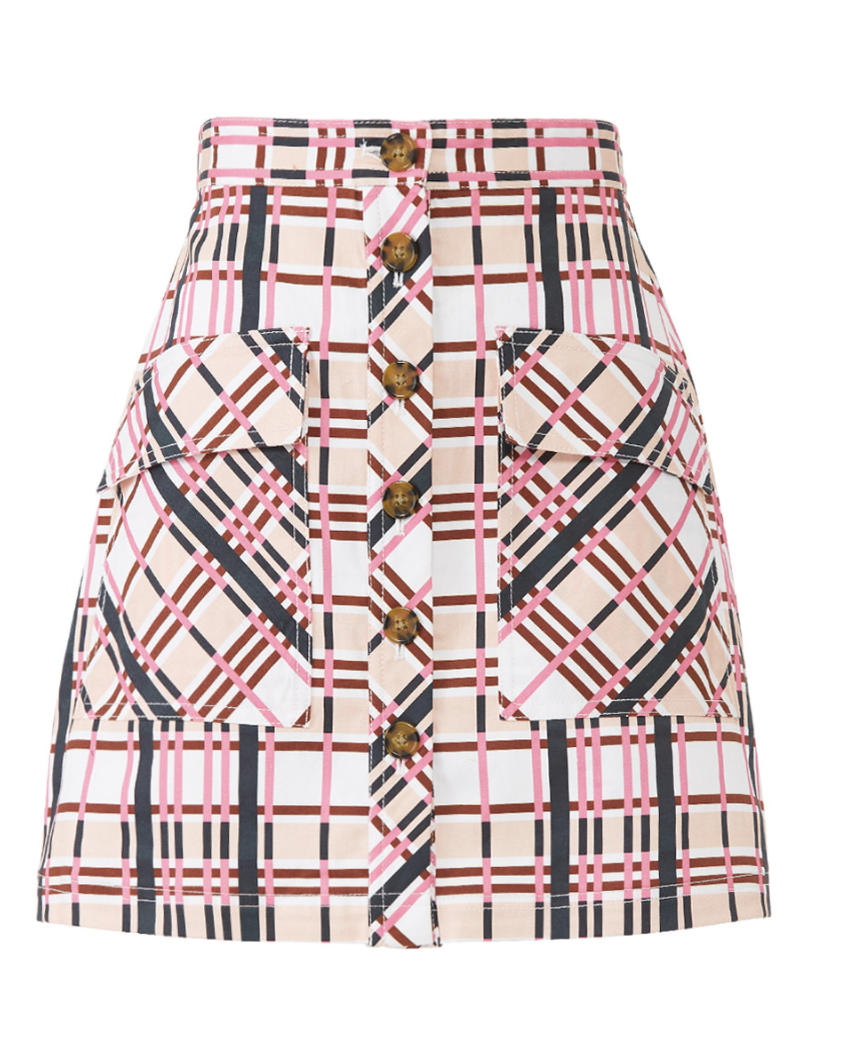 Once this skirt arrived, I didn't love it in person. It felt a bit too young and preppy for me. It fit just fine in a medium, but I didn't feel like me when I put it on.
Nanushka Snake Print Lorena Dress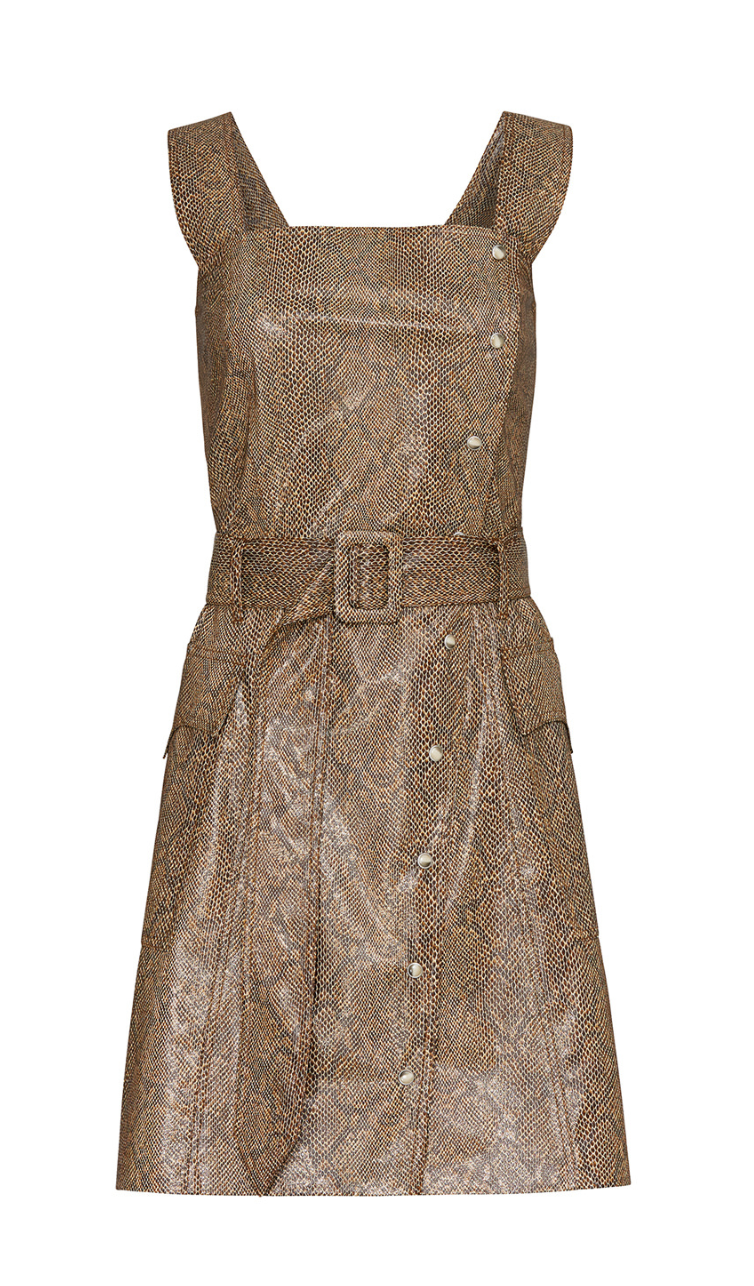 I wanted to wear this dress so badly. Unfortunately, my boobs were in the way. I ordered a small and couldn't get it to button. It's leather but extremely lightweight making it great for summer.