Dry shampoos are essential in my beauty routine. I always have a bottle in use and a back up or two. There's just really something I hate about washing my hair. I'd rather just sit in the bath and relax and washing my hair feels a lot like a chore. So I've rounded up my top 5 fave dry shampoos so that you can get some more shut up for a couple mornings in a row.
Suave Professionals Keratin Infused Dry Shampoo

This has been my go-to dry shampoo for a while. It's convenient to purchase in Target is right across the street. It has ingredients that are good for my hair. And it's super inexpensive.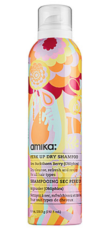 I received this product as a gift from the brand (didn't have to post), but I fell in love. I just used it this past week and I went from Thursday to Monday without having to wash my hair. It still had volume and was soft. I also only had to curl it twice in that long span. I'd say that's a winner.