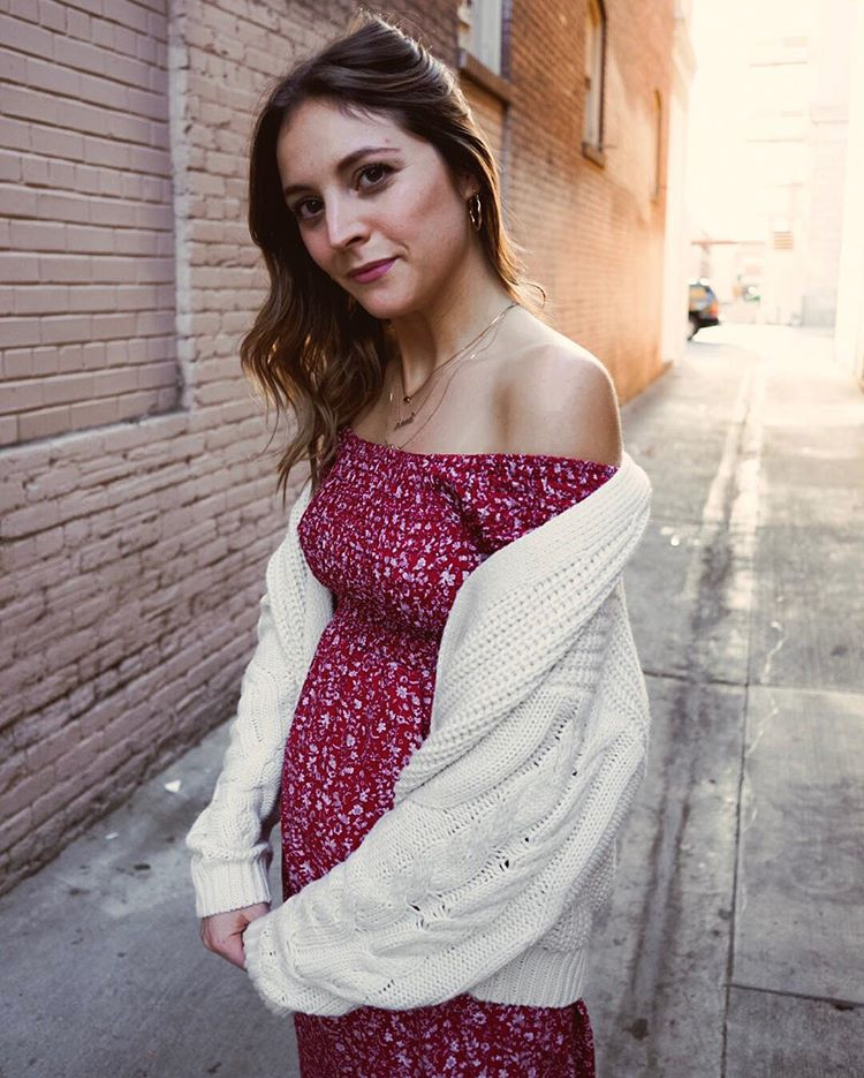 Estevan and I are super excited about our growing little family!! Some days we just sit around asking each other "can you believe it?" in the best way possible! We we're basically kids when we started dating and now we're going to have children of our own and it's a trip. We knew we wanted to start a family around this time. We actually kinda decided we'd start trying after our trip with all our friends to Europe. Two weeks after being home and that little test read yes! It all came so fast and we we're so thankful.
I am so happy to be sharing this journey with you all and to be opening up about all the ups and downs of my first trimester. I spent a lot of time during the last 13 weeks on the internet reading about other women's pregnancy stories wether on blogs or chat boards lol. I loved it; I loved being able to relate to someone I've never met or learn something I didn't know. I found it comforting and informative and a good way to pass my free time (which you'll soon find if you keep reading was free flowing at one point over the last 13 weeks). So I decided to share my stories along the way of this adventure hoping that it will make one woman out there smile or feel strengthened the way I did.
There was plenty of happiness over the last 13 weeks. Sharing the news with family and close friends was a special experience that made me so thankful for all the people in our lives. We felt blessed and thankful through it all.
But it wasn't all roses and butterflies. Honestly, being pregnant started out as something stressful that I didn't think would be so stressful. I was damn excited, but there were parts of me that freaked out over every little pain or cramp or discharge (TMI sorry, but I am sure there will be plenty more where that came from). And I began just overthinking things way too much, and I hated it. I knew this wasn't going to be some easy experience; I know pregnancy comes with issues and pains and so on, but being this stressed wasn't really something I had expected.
And then came my week 9 ultrasound which brought us the first most beautiful image of our tiny little babe, but it also came with a not so pretty picture of a subchorionic hematoma. You probably have no idea what this is, and I didn't either. To make it simple, it's basically like a bruise or build up of blood outside the uterus. And of course, this freaked me out. It wasn't big according to my doctor (2.2 cm) and it also wasn't "worrisome" but I couldn't help but over analyze, over google, and of course, wig out every now and then. I really had a hard time with it in the beginning; I felt upset with myself and embarrassed like I wasn't making a good home for our growing babe. And I know, of course, that this was just something that can occur and wasn't caused by me, but that's just how I felt.
I was home from work for 2 weeks per the doctor's orders trying to get the SCH to heal since my job requires me to be on my feet for good chunks of time. I learned a lot from this experience. I learned that I am terrible at sitting around but good at finding things to do to keep busy without too much movement. I blogged a lot more than normal, read more too, and got my craft on. I also learned that no matter how much I hated being at home all the time, I wasn't doing it for myself; I was doing it for this life that is growing within me. Selfless parenting starts the moment that little stick has two pink lines, and I learned this during this experience. After 2 weeks I headed to the doctor. The SCH was dissolving, babe's little heart was beating away, and everything looked healthy and wonderful. I could return to work the following week!
This start to my pregnancy and my amazing husband have taught me that I need to be less worried and more happy during this time. It's a lesson that can also be applied to pretty much any situation in my life. Worrying does nothing for me or the babe. I create the best home for my little one when I'm laughing and carefree and happy. And that's how I plan to be from here on out!