It's been a hot minute since we've been here! Since I feel extremely taken down by the IG algorithm these days, I felt like I should pop back on here and get writing again. An algorithm free zone where I can share my looks, my inspirations and hopefully inspire some of you to have fun with your closets and truly find your sense of style.
Getting on TikTok… Finally!
As anti-Tik-Tok as I started out, I have to admit I am loving creating video content. It's so fun and interactive and really gives me a space to put my styling skills on display. I mean I think I have styling skills hehe. So I thought it would be fun to bring those videos over to the blog and break things down. That might mean just giving you more details on the looks or talking about the how/why I put things together. Who knows!!? But what I do know is that I want to get back into this space. So let's kick things off with this band tee outfit styling video I made cause someone told me it looked like an ad and that was literally such a compliment!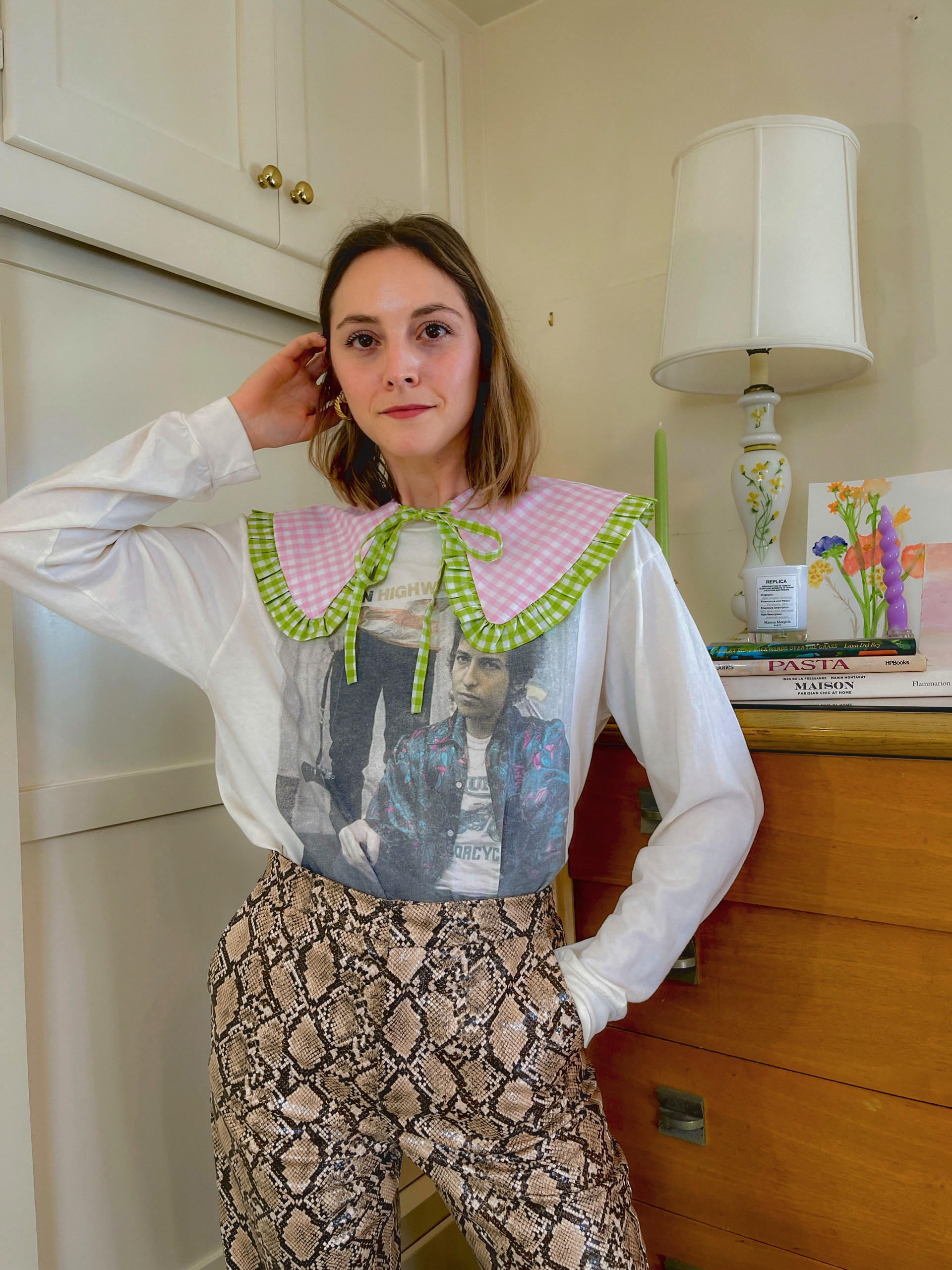 I think any wardrobe needs a band tee. They're classic pieces that won't go out of style (if that's something you care about). And honestly, the older they look, the better. This Bob Dylan one was so sweetly gifted to me by DayDreamer Clothing, and I have found so many ways to wear it. So check out the video above and get some more deets below on a good band tee outfit.
Look 1
Skirt: Vintage from @shopmyrgyle | Shoes: Rue 21 | Socks: Nike
This look had me feeling things! I thought it was super funky and that's just what I was going for. I wanted to show how interesting and unique a band tee look can be! And it can be out there! The tee itself is very muted, so I wanted to add a big pop of color because that's just me! If you're not a socks and sandals kinda person just wear the heels. This look wants me to go to brunch so badly.
Look 2
Vest: Zara | Pants: Zara | Shoes: Crocs
Printed pants are an easy way to add some oomph to a look incorporating your band tee. If you're nor a croc person, swap them out for heels and you've got yourself a great look for a night out.
Look 3
Jeans: Levi's | Blazer: Vintage | Shoes: Converse
This look is the easiest! Yet it's still so damn cool! And it's easy to play with. Keep the jeans and tee but then switch things out. Instead of a blazer try a denim jacket or trench. Swap out those sneakers for a bootie or whatever sandal you're loving atm!
*some links are affiliate links. If you choose to purchase anything (and you should never feel pressed by me to do so!), I will earn a small commission.